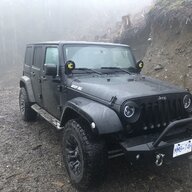 JK Enthusiast
Supporting Member
Joined

May 8, 2022
Messages

989
Location
Much has been written about this code . Figured share my experience .
JSCAN came up P0430 code . Intially I was confused as to how to fig
out if catalytic converter or other issue .
Doing some research I learned faulty ignition or fuel system delivery
can cause a P0430 code.
Tripped over a UTube video showing how to actually diagnose a faulty
C Converter.
Using a infrared thermometer once engine heated up. Idle at 2K and
check temp of CC on the intake and outlet side of the converter.
The outet should be about 100 degrees hotter than intake .
I'm at about 50 degrees so the thing is probably plugged up.
I've got super smooth idle . But at 50 , 60 & 80 kph is runs really
rough and hesitates. That is also a symptom of faulty CC.
Lack of oxygen.
On JSCAN you can read the live voltage values . Monitored mine
and they are off to what I see recommended . Can't remember exactiy
what they were saying . It's been a couple weeks since testing .
Anyway ordered a non factory CC system of Amazon .
Received that .
Just found out today can get 4 new NTK sensors locally for roughly
same pice online .
These are the NTK part #'s for a 2008 3.8 litre
23159 down stream left & right
23566 upstream left
25186 upstream Right
Do not attempt to use Bosch or any other brand of 02 sensors.
Research online showed codes popping up using other brands.
It has to do with incorrect voltage when other brands are used .
The weather here is getting wet so found a shop that will install.
Will update once everything Installed .