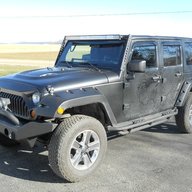 Moderator
Staff Member
Lifetime Supporting Member
Joined

Feb 22, 2020
Messages

4,398
Location
What pisses me off is they blamed my engine and supercharger from the get go. They test drove it after the new tranny was installed and told me there's a rattling sound "like marbles" coming from my engine and I should be getting way more horsepower. The idiots didn't realize the tranny was in fail-safe mode and the rattling was probably a loose bolt or a lost socket in the tranny. Who knows.
When I first drove it and realized there was something wrong, I took it right back to them. Since it was a weekend and they were "closed", they literally closed the door on me and I heard them say my Jeep was a pos. Then they got in their cars and left. I talked to the manager, Brian, and he kept telling me to take it to an automotive shop. It's not a transmission issue. Which I did twice. They both couldn't find anything wrong with my engine. Which made them both think it was somehow fuel related. Along with replacing every part I could think of, I also dropped my fuel tank and replaced a perfectly fine $366 fuel pump. All I know is they better give me a brand new transmission with a brand new torque converter and have a different AAMCO install it. A reimbursement of my stack of receipts would be nice too. The AAMCO in Cour D'alene ID is a complete joke.
Have you checked with the BBB to see if there are alot of complaints on them?