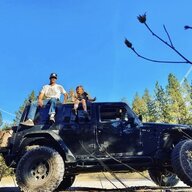 Joined

May 7, 2022
Messages

28
Location
2011 Jeep rubicon unlimited with Ripp supercharger.
After getting new transmission, I can't go full throttle. It starts stumbling like it's starving for fuel or ignition. Half throttle it runs and shifts perfect. I've had two shops test drive it with a laptop hooked up and all systems are working properly. No codes.
Things I've tried to fix it…
Compression check. All cylinders are 180-178 psi.
Radiator pressure check. Stayed at 18lbs with no drop.
Swapped out coil pack.
Swapped out throttle body.
Replaced plugs/wires.
Replaced every sensor. Cam,crank,map,knock,intake air temp. Still nothing.
Replaced the fuel pump. And have fresh 92 octane gas.
Updated Diablo tuner and re flashed.
O2 sensors are communicating properly.
Any ideas what can be causing this?