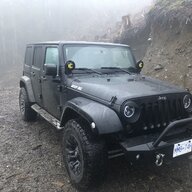 JK Enthusiast
Supporting Member
Joined

May 8, 2022
Messages

577
Location
Especially if you can do the rear seat delete. Or add a roof rack. I've seen spare tires mounted up there, but I don't care for the idea. Primarily because (A) I don't want to lift anything that heavy alllllll the way up there (I don't really want to lift the spare as high as the tailgate mount, to be honest) and (B) I don't want to shift the center of gravity higher than it already is. Because rolling down a hill will scratch the paint...
Don't think anyone running 42" is doing the roof rack spare .
Be practically impossible to take down or put one up there without
a forklift or 3 guys. Most def raise the centre of gravity to where you don't
want it .
It'll be interesting to see direction
@Qaddiction
goes with the spare.
Happy Building