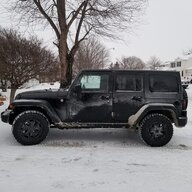 Joined

Apr 29, 2020
Messages

46
Location
Bought or first Jeep, 2017 Willys JKU with the factory hardtop/freedom panels. When we were looking I was thinking, well have to get a soft top too. As I think about how we will use it, I'm wondering if we need it. Of course can do with out for a while and get one later, just curious what other people do. By the way we are in the Midwest.

Here's a bit of background. The Jeep is our 3dr vehicle (2 drivers), bought as a weekend/fun top off vehicle as opposed to a daily driver. May do some mild off-roading but nothing very extreme. We have garage space where we can put the Jeep and hardtop when removed at our house. Understand taking the top off/back on is like a 15-20 minute thing.

I'm thinking in decent weather can just take the top off and leave it in the garage and don't take it out on days when might get rain dumped on. If we decide to go on a longer overnight trip with hotels involved put the roof back on and take the panels off. If staying with friends and want to take the top off leave it in their garage. And of course when the weather gets colder just leave the top on and pop the panels for an occasional nice day.

Thinking about this, I'm talking myself out of the soft top. Appreciate any thoughts.