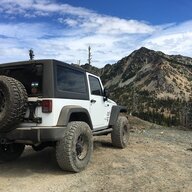 New Member
Supporting Member
Joined

May 21, 2020
Messages

6
Location
On my 2013 2-Door JK, I'll be soon replacing the tires. I'm currently running Toyo Open Country R/Ts, and they are now a little over 5 years old with approx 45,000 miles on them. The tires have held up well, and are actually still in good shape, but there are signs of some micro-cracking due to oxidation, but not enough to have to replace them right away, but I do plan to replace them within the next 1-2 months. I'm currently looking at buying new Toyo Open Country R/Ts, but I'm also looking at Toyo Open Country A/T III's which just came out in March 2020 as an option. I use my Jeep for daily driving (alternating with my 2020 JLU Willy's), as well as light - moderate off roading in dry conditions. I live in the Seattle area, so I'm in need of a set of tires that can handle all weather conditions, and the new Open Country A/T IIIs have the 3 peak snow symbol, in addition to the M+S designation, so that is very tempting, plus they are cheaper than the Open Country R/Ts. Main disadvantage of the Open Country A/T III is that they are a new release, so there is really no history yet of user reviews. My 2013 JK is on a 3.5" AEV Dual Sport Lift and 3.73 gear ratio, and actually handles fairly well on the highway with my current tires.

Does anyone have any opinions or thoughts on tires they have or like...I'm open minded too, for going with other brands. I'm looking at durability, traction, and ability to handle various weather conditions, and I'm willing to spend more if it means getting a better tire. Thanks!

Edit: My jeep axles are currently stock, and my current tires, and ones I'm looking at, are Load E...should I be looking at a lighter load C instead of E? I have not really noticed any problems with my Load E, but just wanted to get thoughts. I'll most likely re-gear to 4.88 in the future, but so far 3.73 has not been a major issue, despite on and off road usage.
Last edited: