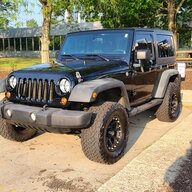 Joined

Jun 9, 2023
Messages

7
Location
I'm sure there are answers out there, but I'm having trouble finding them.
2011 Sport 2 door:
Replaced headlights with LED fixtures, and connected halo to running light. ALL GOOD
then, replaced front turn signals and side markers with LED fixtures . ALL GOOD
then, replaced back up with LED bulbs. ALL GOOD.
then replaced stop/turn with LED bulbs. Hyperflashing.
Put the original incandescents back in- still hyperflashing.
Swapped whole taillight assemblies (with built in resistors) out with LED's - still hyperflashing.
Doesn't hyperflash with 4 ways.
Could I have damaged the circuit board where the flasher assembly is?
Do I HAVE to ground both resistors on taillights?
Or will I have to put resistors on the front turn signals, also?

I know this is a lot, but any help is appreciated.