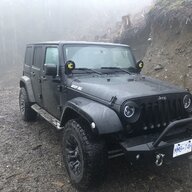 JK Enthusiast
Supporting Member
Joined

May 8, 2022
Messages

656
Location
I would say that is the purpose of the Sahara badge and always has been. There are a number of other things that have happened over time because they legally can't produce something with TJ simplicity anymore. Much of the tech is required now, as it should be.

The fact that the four door jeep vastly outsells the two door backs up what they have been doing.
I agree with this . It seems from the outside looking in that Jeep is trying to compete the higher end luxury models .
BMW, Lexus, and possibly the G Wagon or other Benz models .
I think the hybrid is a taste of what's to come . They will come out with a full electric model at some point .
But if they seriously want to compete with the ultra quiet , super comfortable brands we may see the Sahara or 4XE go off in a diff direction . IFS or 4 wheel independent suspension for better road manners and a non removable top to really quiet things up .
It's funny cause they kinda already have that in the Cherokee but people still want the Wrangler so engineers are busy fig stuff out .
I'm just speculating but I wouldn't be stunned . Cause let's face the facts The Jeep Wrangler sells well . I would suggest that 90 percent sold don't go wheeling. It could be lower in places like Colorado or Utah where off roading is popular . So depends on where you live.
On Vancouver Island there are a ton of Jeep's . Can count on one hand the number of times seen another wrangler on the trail .
It will be interesting to see how things play out in the next few years .
Last edited: