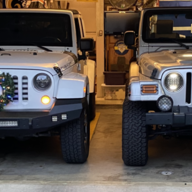 Joined

Mar 28, 2022
Messages

262
Location
Headed up Silverado canyon yesterday to get out and about, with the idea of getting this thing dirty on Santiago peak trail.
Going about 30-ish, on a winding, narrow, two-lane blacktop I catch movement on the left shoulder, then movement through the oncoming lane, and that's when the blur came into focus.
The deer was small, probably less than 100lbs, but it darted across the other lane headed directly at my left front corner, made a sudden left turn as I was mashing the brake pedal and cranking the wheel to the right.
I swear that deer's feet were under the leading edge of the front tire before he got traction.
Luckily he was able to stay upright, or he would be flat today.

Nothing like a sudden rush of adrenaline to get your mind back in the game.

Just a friendly reminder to say alert.