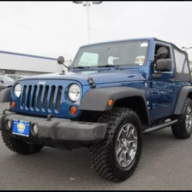 Joined

Jan 10, 2020
Messages

3
Location
Hello Hive Mind!

I recently bought a 2009 Wrangler X. I Love it (2nd Wrangler in my life span). But as I've looked at different posts on the forum I still need help on trying to figure out what front floor mats to get. The carpet has been removed and I tried WeatherTech, but plastic and metal is more slippery than white wall tires on a snow day. I see that Quadratic has some floor mats but I want to find a HEAVY RUBBER mat whose weight and material will cause it to stay in place... any suggestions?

I've also read that replacing the factory speakers won't really improve the sound (the speakers now are paired with a pioneer stereo) sound absolutely awful. I don't want to put in a sub woofer, but some decent sounding speakers would be great. Any suggestions?

Lastly, I see there is some rust underneath the car on the piece of metal that protects the gas tank etc. I also noticed when I open the hood that there are some rusty screws - (but also some non rusty ones...) so not sure if the previous owner had it outside for a few years? is there something preventative I should do now? or just let it go until I need to replace a part? I want to be penny wise and not pound foolish. Thanks in advance for your help.