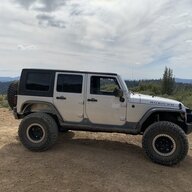 Joined

Jun 22, 2021
Messages

76
Location
Okay working on consolidation for our camping trips. Last trip was 3days in the sierra's and everything seemed to go alright. One thing we are leaning towards is a 12v fridge. Wanted to see what others are running? I really don't feel like spending $1k on an ARB or Dometic.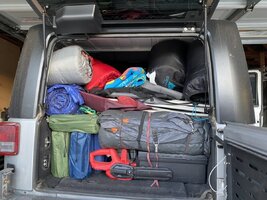 I know it's always been a question on how to pack for a trip, I myself was literally looking at videos to get things packed. Big change from our GMC pickup.
What you see and don't see in the pic:
45qt Igloo ice chest
Large Rubber Maid Bin (Colman stove, propane, Colman dish set, misc cooking)
8 person two room tent
20x30 tarp
Ozark net canopy (aka kitchen/dining room)
Folding table 3x6
4 camping chairs (including my massive rocker)
4 self inflating Sleep pads (first time using them and was impressed)
4 sleeping bags
4 blankets/pillows
Chain saw
Bag of dry food
3 backpacks of cloths
Small tool box
Recovery gear, bottle jack
For the kiddos
Nintendo Switch and iPad
Oh, and four people. First time I asked how to pack people literally just asked why I didn't remove the rear seats. There is a reason.
Lots of other small items but that's the bulk. Only areas we find space saving is maybe the tent/tarp combo. We have a smaller 6 person but I can't stand in it, which is frustrating. Back to original issue, 3 days of sloshing ice. If you have had luck with a 12v fridge I'd be interested in knowing the brand an size.
Cheers
Scott @fishfam_log