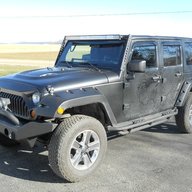 Moderator
Staff Member
Lifetime Supporting Member
Joined

Feb 22, 2020
Messages

2,582
Location
I don't have the 3.6, but I can tell you from reviews from multiple sites... believe me - I looked before dropping the cash on one, 99% love it. A lot of them also used the PC on their Chargers, Durangos, Rams, GCs and other ones that have the 3.6.

I've only seen a couple that complain about going into Limp Mode. I believe they tried to use cruise control in ECO mode, which states in the instructions NOT to do. I also read of some people's accelerator not working, but they could've reset it themselves. I wonder if it's because they did not let the car stay off for 5 minutes to allow the electrical system to fully shut down and/or leave the key fob at least 35 away during install.

Overall, I've seen way more positive reviews (mostly 4 or 5 stars). If/when I get a newer one - I'd install it in any model Wrangler. - just because now I know what it can do. I'll update if something goes wrong.

@BLACKJKU

- have you had any issues? How long have you had yours?
No issues with my PC, the main issues i've heard is when someone has made a setting change while driving. NOOO don't do that and as long as you follow the directions it should work like intended. I've had mine a little over a year now.