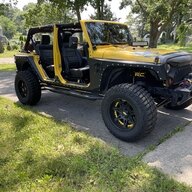 New Member
Supporting Member
Joined

Oct 4, 2021
Messages

3
Location
Hello All... I'm new to the Jeep community having been a truck guy for many years. Over the summer myself and my daughter both bought Jeeps. Mine is a 2011 JKU w/ a 6 speed, as seen in my profile pic ,which just turned 111k miles. It came as you see in the pic along with a hard top. I've been getting engine pinging lately. I checked the oil, which was down 2 qt's. I added the 2 qt's and still getting the pinging. The pinging comes at all different intervals, all gears and RPM ranges. Also with and without the hardtop. I put it on a code reader and no codes showed up. Should I change the knock sensor or is there somewhere else I should be focusing?
My second question is about my daughters jeep. Hers is an 08 JK, 2 door, stripped down model with an automatic tranny. It was purchased from a small used car dealer and came with a 30 day/1K mile warranty. A week ago she was driving home in a steady rain. As she exited the highway, it stalled. Couldn't get it started again and it was towed to a jeep dealer. The first step was to replace the burned out starter and corroded wire that caused the short. Once it started, the engine had a loud knock, which was determined to be a blown rod. Now the motor needs to be replaced. Now the questions...can the shorted out starter cause the engine to blow the rod? Obviously the corroded wire was present when she bought it and it was missed during the inspection (if one was even done by the dealer). Is it common for the rod to go with no forewarning? There were no noises prior to that day to indicate any problems. Absent any indicating noises, do the rods in the motors just fail or are there precipitating factors, such as bearing wear, etc that has to happen over time? If this is the case, how long before the failure do any issued start to manifest?

I'm asking alot of engine questions because if the failure was caused by a pre-existing condition that could/should have been noticed by the selling dealer, I'm going to push to have them pay for the new motor. Any help/assistance which could bolster our case to the dealer would be greatly appreciated.

Thanks for reading and any assistance that you have. Be safe everyone!