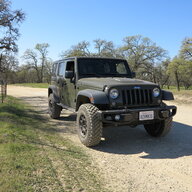 JK Enthusiast
Supporting Member
Joined

Jan 30, 2021
Messages

164
Location
View attachment 123160

This one is a smittybilt. It's my second one as my ex t-boned a Chevy 1/2 ton back when I lived in Edmonton. The Jeep still drives great but the truck was bent in half. If it wasn't for that steel bumper, the Jeep would have been a write off too. The only thing I worry about with aftermarket bumpers is how it affects the deployment of the airbags. Mine didn't go off in the accident but I'm sure that made the repair bill cheaper...

I also hit into one of those concrete highway barriers while driving through 8 foot high grass once. Bumpers really do pay for themselves!
Nice looking ride there.