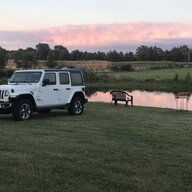 Joined

Jan 21, 2023
Messages

4
Location
I recently Replaced my battery in my 2019 Jeep Wrangler Sahara. All went well for a couple days. THEN! The Instrument panel went crazy. All the check system lights came on. The Jeep was stuck in park and a loud fan noise came from under the hood.
After doing some research, I found that while doing this because of the auxiliary battery still having juice to the negative terminal that it was possible, they could have touched during replacement of main battery, causing a shortage to the fuse strip. I replaced that then all is well for a day.
Came out to start it for work and same problem. Checked the auxiliary battery it showing 12 V.
Anyone else experienced this problem?