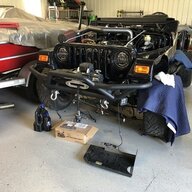 Joined

Jun 25, 2020
Messages

1
Location
New to the forum. Hello all.
To keep this post reasonable short on September 27 my son totaled his 99 2.5 Wrangler TJ, he got T bone, I told him I would fix it it's his pride and joy. Nine months later here I am. New frame, new tub,paint, POR 15, Raptor Liner I could go on but the list is endless. I rebuilt the used 4.0 that is currently in it.
So here is my problem, wiring I am a Tool Maker wiring is not my thing. I can use a meter but that is the extent of it.
Anyway here is whats happening. No Bus no gas gauge reading fuel pump works. Running lights work, no headlights. No starter engagement when I turn the key.
I have check every ground that I KNOW of, firewall, behind the gauge cluster, right side kick panel, grounds near the front speakers, grounds located on the inside of the grill by the lights. I have checked every fuse and relay, I do have power to both fuse boxes. I have removed the gauge cluster and cleaned the terminals, removed the plugs from the dash and manually plugged them in.
I do have Two 02 sensors that are not plugged in, as of late last night I could not locate the wires. I have a couple of plugs under the dash drivers side right foot location that are not in use, I can't find anything that they plug into. I also have two on the passenger side firewall that are not in use here again I can't find anything for them.
Thanks in advance for your help.