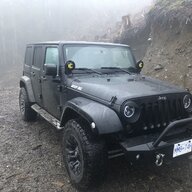 JK Enthusiast
Supporting Member
Joined

May 8, 2022
Messages

482
Location
Follow-up on the wheel/tire situation I encountered over the weekend.
Ordered new lug nuts, they arrived yesterday and I began replacing them this morning. The chrome capped lug nuts (PO) were a mess, and it took nearly 2 hours to get them off. Got to the last wheel (right front) and, guess what? No lug nut. But it didn't take long to figure out why- the stud was stripped.
Got a new stud installed in about 20 minutes, got all the lug nuts on hand torqued them myself to 100 lbs.
Oh, and did my front brakes as well.
I have a new seal kit for the freedom top, but I'll wait for Hurricane Ian to pass by Friday-Saturday. May have some time to put it on Sunday.
Glad you were able to remove lug nuts without to much of a hassel.
Were you able to get tire patched or did you have to replace ?
That hurricane is nasty . Florida getting hit pretty hard .
NC I see now under state of emergency .
Quote
North Carolina could see heavy rainfall and possible flooding and tornadoes on Friday and Saturday from the remnants of Ian. The State Emergency Response Team will activate Thursday at the State Emergency Operations Center in Raleigh and plans to move to 24-hour operations on Friday morning.
Be safe
Last edited: