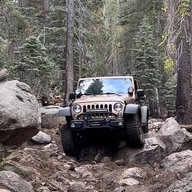 JK Addict
Supporting Member
Lifetime Supporting Member
Joined

Mar 9, 2021
Messages

1,099
Location
The recovery box mounts side to side, along both of the rails, not front to back…
I'll get a pic when it's mounted.
If I put it on now, I won't be able to get out of the garage.
PS, looks like it stored under the TJ, don't run it over.