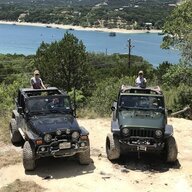 JK Enthusiast
Supporting Member
Joined

Aug 17, 2020
Messages

118
Location
@Chris
and other guys. My buddy here in Austin got his son a 2011, and he threw a rod in it, and a reman engine is going to be needed.
He looked at Jasper engines, which is who he has used in the past on other work, but they want $5k. Seems high to him, but I don't know the space right now on pricing.
Any specific suggestions on engines for the 2011 that you'd suggest?