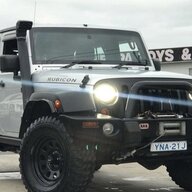 Joined

Jul 14, 2021
Messages

49
Location
I purchased my Rubicon and wondered why it didn't disconnect. My first thoughts were that the internal connector was seized, well upon inspection it was, but that's kind of an easy fix, pull apart, wire wheel all the rusty parts reassemble with grease. But my problem was the bearings in the disconnect housing halves were seized so basically buy a new complete bar…or fix it. So have a look at the pictures for some reference.

What I've done was dissemble both halves and face them down then everyday for a few weeks I've sprayed WD40 at the seals so that the fluid soaks down into the seized bearings. Then start to tap the halves back and forth with a hammer to get things moving. After 2 weeks I've managed to get it to move 3". Soak with WD40 again but next time you attempt to move it to loosen up the bearings place the housing/s in a vice and start working on moving the bar this time.

Once you get it fully moving you will need to clean the rusty mud out so spray lots of cleaning fluid like brake cleaner etc then once it's clean finish off by putting in more WD40.
Last edited by a moderator: