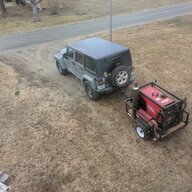 Joined

Nov 21, 2022
Messages

23
Location
Hey everyone I'm Nick, I just joined from the Southwest tip of Nova Scotia.
I have a 2015 Sahara Unlimited with some mods I bought new when I was living in Alberta. I'll see if I can attach my modifications spreadsheet below.
I decided to join after having some pretty annoying electrical problems with my Jeep and having read some helpful posts here.
Basically one Monday morning I jumped in to go to work and when I started my vehicle all the warning lights came on. Engine light, ABS, traction control, hot oil, check TPS, downhill assist, no tachometer, no fuel level, no speedometer and the radiator fan would start blowing at max speed. I tried to drive to work but it wouldn't shift out of first gear.
Jscan was showing me every code I could imagine, lost contact with powertrain module, transmission module, dash cluster, you name it, it was all there.
I looked up some stuff online and everyone said that a loose battery terminal would do that. I thought "no way" a battery terminal would mess up a car like that but I checked it. Sure enough it was loose! It wouldn't tighten anymore so I got a new terminal, installed it and and just like that the Jeep worked!
I drove to work (less than 5 minutes) and at the end of the day, half way back home, the lights started coming on again and by the time I was home it was stuck in first again.
The next most likely solution is a bad battery so I got a new one but it had no effect. At that point I was getting pretty mad, it wasn't even starting anymore and when it did I was stuck with only first gear. The alternator would read around 14.5 volts when charging so that seemed fine. I kept the battery on a charger and it would charge just fine. I tried messing around with all the wiring harnesses I could find, then the ignition switch...
I couldn't make any progress and everything I would do seemed to make things worse. I decided that either the engine computer or TIPM were fried and I couldn't really afford replacements, I also wasn't comfortable messing with them too much since I tend to break all those plastic clips that hold Jeeps together.
My parents eventually offered to have my jeep sent to a dealership to get looked at.
They basically repeated my own work and said they didn't know what was causing the problems and didn't know where to start looking! So back home on the flatdeck it came. With a completely dead, brand new battery ( that still won't take a charge). But that last part is a hint now isn't it?
I charged and reinstalled my original battery and decided to do an IOD test. It was constantly pulling 1.2 amps from the IOD/siren, radio and PCM fuses after the ignition was turned off. I left it there for about 10 minutes or so. I didn't know how to check the circuits any more than that.
I got to a point where I didn't really care about breaking stuff anymore so I completely removed and disassembled the TIPM to find the tiniest amount of corrosion on 4 pins on one of the wiring harnesses. The TIPM isn't as complicated or scary as the internet made it out to be.
After reinstalling the TIPM the Jeep now works again! It starts without issue with no warning lights. I haven't done another IOD test to see if that was the cause yet because I blew the fuse in my multimeter and I'm waiting on a pack from Amazon. For now I just park it with the battery unplugged.
Anyway if you check the deletes in my mod list you'll see inner fenders on there. It was less of a delete and more of a rip-out-by-tree kind of modification. I figure that those keep water out of the engine area and may be the cause of all this. I'm thinking of making some custom inner fenders out of some heavy duty rubber conveyor belt we have kicking around at my work. I modified my outer fenders and the inner ones won't work anymore.
Anyway that's my story.