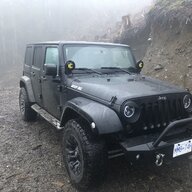 JK Enthusiast
Supporting Member
Joined

May 8, 2022
Messages

242
Location
What do you guys think of JSCAN for changing parameters on the Jeep.
Ordering new headlights and wanted to use halo's for daytime running lights.
In order to do that have to turn off DTRL and wire headlight up to power source .
Was going to go with the ECRI calibration module but due to supply chain
issues currently unavailable .
It will be handy to have one as doing gear change soon .
Looks like JSCAN has many more options than the ECRI including reading codes .
Plan on dowmloading app onto iPad mini I use in the Jeep.