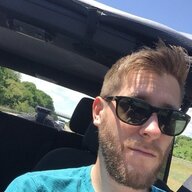 Joined

May 18, 2020
Messages

6
Location
I don't know anything about suspension so I have a question.

I have a 2016 JKU Sort
My buddy gave me 2" coil spacers for the front and back. I installed them using spring compressor and just Slipping them on top and relaxing the spring again. (removed the factory spacers first.)
I don't notice any difference in the height. Maybe 3/4" in the back and 1" in the front. Now the back end is really rough goin over speed bumps faster than 2mph.

Are there other adjustments I need to make? Longer shocks? Longer sway bar links? Someone mentioned to me I should loosten the sway bar brackets and re-torque them with the Jeep on the ground to take the twist out because they're now loaded? That didn't make a lot of sense to me though. The only thing I can see is the sway bars are angled pretty far down now but not a lot of visible lift next to a stock Jeep.