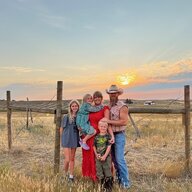 Administrator
Staff Member
Joined

Sep 28, 2015
Messages

32,267
Location
Since I see this question asked all the time, I'm going to make what I would like to consider a 'be-all end-all' of headlight option discussions pertaining to the Jeep Wrangler JK.
So, first and foremost you have to know that the stock headlights on your Wrangler JK are 7" sealed beam headlights. 'Sealed beam' means that if your headlight goes out, you can't simply go out and buy a brand new bulb, you instead need to purchase an entirely new headlight. Fortunately sealed beam headlights are pretty cheap. I haven't purchased one for ages, but I expect if you look around you could probably find them for $15-$20 per side which is practically nothing.
It's no secret that the headlight output on a stock Wrangler JK is horrible. I mean it's bordering on insanity if you ask me... Driving at night on un-lit roads the stock headlights don't illuminate much at all. If you're like most of us, one of the first things you do when you get a new Wrangler JK is start looking into replacing the headlights.
Below I am going to give you some of the options you have in regards to headlight upgrades.
NOTE: All of these headlights will work on Jeep Wrangler JK and JKU models as well. The only thing is that you'll need an anti-flicker headlight harness.


LED Setups
A true LED setup has many advantages over a halogen setup. A true LED headlight will have a much sharper cutoff pattern (therefore illuminating the road better while not blinding oncoming traffic), better light output, and it will feature a headlight housing that is designed from the ground up for an LED bulb (this is very important). Let's also not ignore the fact that all modern vehicles are starting to go towards LED headlights being installed from the factory. Even the 2017+ Jeep Wrangler JK now comes stock with LED headlights. LED headlights will eventually replace HID headlights as they are more efficient, draw less power, cheaper to produce and last much, much longer.
If you want my honest opinion, the best possible headlight you can get for your Jeep Wrangler JK, is an LED headlight.
It's also worth noting that all of these LED headlights use polycarbonate lenses as oppose to glass (which halogen headlights use). Polycarbonate is great for off-road vehicles since it won't crack or break if your headlight happens to get smacked by a tree branch (or similar) on a tight, off-road trail. This is one benefit of LED headlights that most people overlook.
Here's a rating comparison of some of the more popular LED lights for the Jeep Wrangler JK: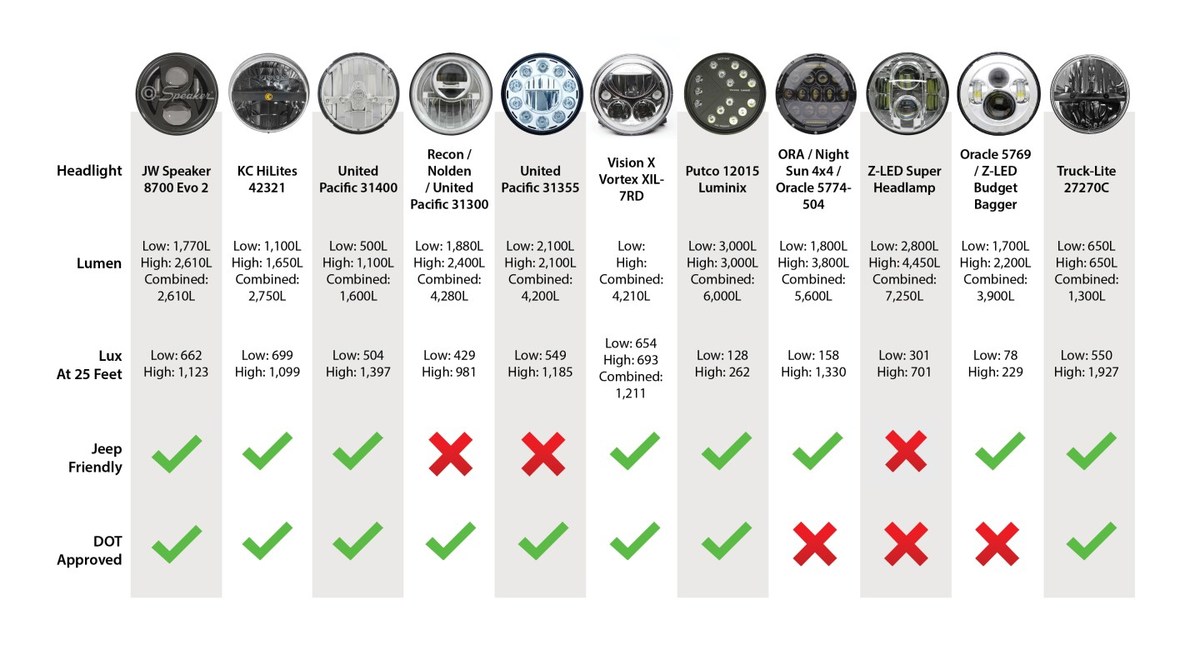 What is a "lumen"?
The
lumen (lm)
is an international standardized measurement unit that tells you how much total light is emitted by an LED or other kind of light source. In more technical terms, it is a measure of
luminous flux
.
1 lumen = 1 candela * 1 steradian, where candela is a measure of light intensity and 1 steradian is 1/12.566th of a sphere.
(The steradian is defined as: a
unit of measure equal to the solid angle subtended at the center of a sphere by an area on the surface of the sphere that is equal to the radius squared
.)
Sometimes you might see
lumens out the front (OTF)
, which means a manufacturer has measured the lumens output out the front of their lighting product. This is in contrast to non-specified lumen ratings which might be based on emitter or bulb ratings.
The lumens rating of a flashlight will always be lower than the lumens rating of its bare emitter or light source, which is why some brands try to even the ground by explicitly saying their lumen ratings are based on OTF ratings. (This is analogous to how some cordless tools are marketed as
18V
and others
20V Max
*.)
What is "lux"?
You might also hear about
lux (lx)
, which is a measure of
luminous flux over a unit of area
.
1 lx = 1 lm per square meter.
Lux tells you how light intensity is distributed, with measurements often taken at the center of the beam. You might sometimes hear lux related to a flashlight's
throw
.
When comparing light sources with similar lumen ratings, a high lux value is often indicative of
spot
illumination, and a low lux value is often indicative of
flood
illumination.
Lux can be very misleading, as it can lead users to draw false conclusions without taking additional information into account.
So does more lumens mean more light?
Be aware that when choosing an LED light, there is way more to it than simply which one has the most lumens. A perfect example of this would be the
Truck-Lite 7" LED Headlights
. While they don't have as many Lumens as some of the others, it doesn't matter, because the reflector housing in which they are in provide a far better light output than almost any of the LED lights on this graph.
Are Jeep Wrangler JK headlights the same as JK LED headlights?
Aside from the harness these headlights use to plug-in, there is no difference at all in terms of fitment. In other words, a JK headlight is the same as a JK headlight, with the exception of the wiring harness. If a headlight mentions that it was designed for the Jeep Wrangler JK, all you need to make it work with your JK is some
H4 to H13 adapters
. I've noted next to most of these headlights which if they'll require the adapters or not. These adapters will allow for any JK headlight to be a simple plug-and-play installation, taking about 5-10 minutes per headlight to install at most.
LED Headlight Options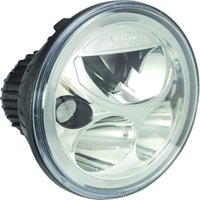 Vision X Vortex (XIL-7RD) LED Headlights
Don't be put off by the outlandish price of these headlights. I switched from my
Truck-Lite (27270C) LED Headlights
to these things, and I am absolutely blown away by how nice of a headlight this is. If you're one of those people who considers yourself a lighting snob (that's how I am), I assure you that these headlights are the one you want. These things are the cream of the crop. Both the way they look and the way they perform is outstanding. They are made in South Korea and include a lifetime warranty (how many other manufacturers can say that?). The quality of these things is apparent not only by looking at the packaging they come in, but also inspecting the headlights up close. The Vision X Vortex outperforms all the other LED headlights on the market, and looks outstanding while doing it. They offer a halo LED ring, as well as the ability to run both your high beams and low beams at the same time (with the optional Hi4 harness). These headlights easily win my top pick, and if you have the money, then you honestly should consider picking up a set. As far as I am concerned, there is no better light out there than the Vision X Vortex. My Truck Lites were amazing, but these outperform even my Truck Lites! These headlights will work on both JKs and TJs, as they come with adapters for both!
If you'd like to see my review of the Vortex Vision X headlights, you can find it here:
My review of the Vortex Vision X LED Headlights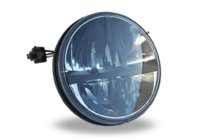 Truck-Lite (27270C) LED Headlights
Ask around among any Truck-Lite owners (myself included) and 99% of them will have nothing but praise for these headlamps. It's absolutely shocking how good the light output is on these things. I went from stock sealed beam headlights to these things, and it was like shock and awe the first time I drove at night with them. Even on completely unlit roads, these things illuminate so far ahead of you that it's almost like you're driving in the day time. Don't assume that just because these don't have the sophisticated appearance of a light like the JW Speakers, that they aren't as good. Quite the opposite actually! The reflector housing in these things provides a very defined light output. There's a lot of other LED manufacturers out there, but in my opinion Truck-Lite was the first to the market with these things. They're used by the U.S. Army on many of their vehicles throughout deployment in Iraq and Afghanistan. They also make a
heated version
of the Truck Lites as well (for those of you who live in extremely cold climates).
These would be my second choice.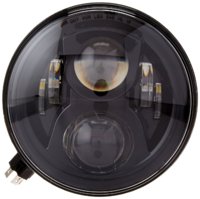 JW Speaker 8700 Evolution J2 LED Headlights
These JW Speakers have a proven history of being one of the brightest available headlights out there for our JKs. Thee headlights are run by a lot of Wrangler owners, and therefore they have a proven track record with the quality to back it up. Available in black and chrome. They're not cheap, but the light output and quality easily make them worth the price.
These would be my third choice
.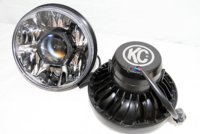 KC HiLiTES (42341) Gravity Pro LED Headlights
The Gravity Pro is the latest 7" LED headlight for the Jeep Wranglers. It further improves on the previous KC model (42321) by combining both a reflector housing and a projector lens. The light output is crisp, clear, and has a nice, sharp cutoff, thanks to the projector lens. In addition to that, these things provide an aggressive look, without going over-the-top. You won't find an halo rings here, just pure, quality lighting from a reputable manufacturer whose been in the game for a long time. Since these headlights are designed for JKs, to make it a plug and play situation, you'll need some
H4 to H13 adapters
.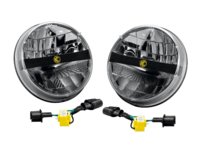 KC HiLiTES (42321) LED Headlights
These things look a lot light the Truck Lites, and all the reviews I've read say that the light output is on par with all the other top choices. They cary the reputable KC brand name, so these are a solid buy for sure.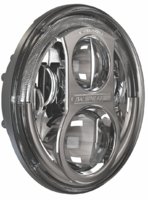 JW Speaker 8700 Evolution J LED Headlights (Chrome)
JW Speaker 8700 Evolution J LED Headlights (Chrome)
JW Speaker 8700 Evolution J LED Headlights (Carbon Fiber)
Without a doubt, if you have the money to spend, these are pretty widely regarded as the brightest LED lights available for our JKs. Available in black and chrome. They're spendy, but the light output is second to none. In addition, these things are hands down the best looking LED headlight out there for our JKs in my opinion. Since these headlights are designed for JKs, to make it a plug and play situation, you'll need some
H4 to H13 adapters
.
Factory Mopar LED Lights
(stock on 2014-2016 JKs)
These are the factory OE LED headlights that come as an option on the 2014-2016 Jeep Wrangler JKs. They're around $800 for the option (when you ordered your JK brand new), and from what I can tell they are identical to JW Speakers, but they have the "Jeep" logo imprinted on them, which is pretty awesome. They are a 100% plug-and-play headlight for our JKs. Since these headlights are designed for JKs, to make it a plug and play situation, you'll need some
H4 to H13 adapters
.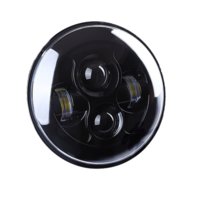 JW Speaker 8700 Evolution 2 LED Headlights (Chinese Knockoff Version)
If you're a big fan of the JW Speaker headlights, but not a fan of the price, try these out. They're identical to the JW Speakers but at a fraction of the price (note that the price is for TWO headlights, not one). I'd be willing to bet dollars do donuts that these things are just as bright as the JW Speakers, and no one would ever know the difference. Gotta love the Chinese for putting out a cheaper version of the same headlight.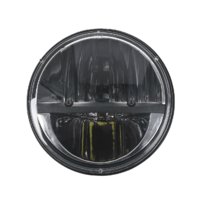 Truck-Lite (27270C) LED Headlights (Chinese Knockoff Version)
I can't attest to the quality or light output of these things since I have yet to see anyone running them. However, I'm certain it can't be bad, and for 1/3 of the price of Truck Lites, I guess this is a good and affordable headlight for most. I wouldn't hesitate to purchase them either, since Amazon is really, really good about their return policies. Next to the Truck Lites, these would be my second choice, and I say that only because I know first hand how well the Truck Lites perform. For a good read on how these things perform, check this thread out:
Replaced Headlights w/Truck-Lite Knockoffs
United Pacific (31400) LED Headlights
While I've never personally used these, I love the way they look. I also like the fact that they're available in both chrome and black. The chrome ones look like they'd maintain a lot of the "stock" look of the factory headlights.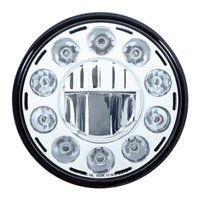 United Pacific (31355) LED Headlights
Another option from United Pacific, and I admittedly like the chrome as well!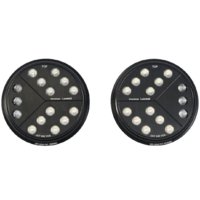 Putco LED Headlights
These things look bizarre. Almost like something you'd expect to see in "Close Encounters of the Third Kind". However, the have a more lumens than any other LED light out there, and if you're looking for that futuristic look, then I wouldn't rule them out. Given the low lux value of these lights, they're going to be much more of a "flood" light as opposed to a "spot" light output. This isn't necessarily a bad thing, as a a flood type output is ideal for driving on roads.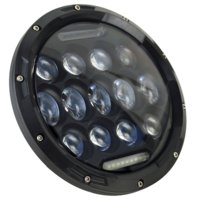 Lantsun / Nightsun / Oracle / etc. LED Headlights
These LED headlights are often referred to as a lot of different names. That's because they all come from the same factory in China, then importers in the US get them and brand them under their own name. Don't be a sucker and pay more than $120 for a pair of these, because if you pay more than that, you're being fooled! Every single one of these, regardless of the claimed brand name, comes from the same factor in China. I have a friend who has these and while the light output isn't as good as my Truck Lites, they are an extreme improvement over stock for sure.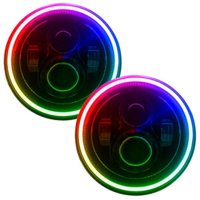 Oracle 5769-333 ColorSHIFT 2.0 LED Headlights
While I am not a fan of the halo look, these are considered a very good light with a very good quality light output. The other cool thing is that you can change the color of the halo rings to any color your heart desires. The latest version of the Oracle ColorSHIFT halos features high-powered 5050 RGB 3-chip LEDs electro-soldered with computer accuracy to a 6-Layer Rigid PCB. This new version delivers brighter and more fluid light output than the original ColorSHIFT rings. Each 5050 surface mounted diode contains three 3528 LEDs (making each LED 3x brighter than the LEDs on previous rings) one red, one blue, and one green diode in each LED. This allow you to make consistent colors such as "pure" white without seeing the individual colored LEDs on the ring. This type of 5050 3-Chip LED is a high-quality SMD with a 50,000 Hour Lifetime Rating that has proven to work extremely in this application during our testing.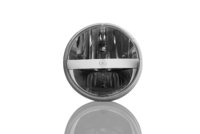 GE Nighthawk LED Headlights
The reviews for these are almost all positive. I've never seen GE offer a headlight before (which is interesting), but given that they look nearly identical to the Truck Lites, I would have to assume that they are a LED headlight that performs very well.
Halo LED Headlights
(with built in turn signals)
Halo LED Headlights
Half-Halo LED Headlights
Quarter-Halo LED Headlights
I've personally spoken to about a dozen people with these headlights who really like them. I I personally don't care for the halo look at all. However, everyone has different taste, so if you're looking for that halo look, these are a very highly reviewed option with fantastic light output and the ability to make your turn signal integrated with your halo! A perfect option for those of you with aftermarket fenders.
Halogen Setups
Since the stock headlights are sealed-beam, you can forget going out and buying a pair of better headlight bulbs. In order to do that, you'll first need to convert to a set of 7" H4 headlights (which are non-sealed beam). With these headlights you'll be able to replace just the headlight bulb itself (not the entire assembly) and you'll also reap the benefits of much better light output versus stock. Now I don't know why anyone would bother with halogen lights considering how much brighter (and less wattage) LED lights are. However, everyone has different taste, and if you insist on running halogen headlights, you'd be a fool to consider anything other than the following halogen headlights for your Jeep Wrangler JK.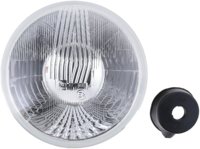 Cibie 7" H4 Headlights
These would be my top choice for halogen replacement upgrade hosings. There have been many comparisons of the Cibie 2" versus the Hella 7" but the Cibie always seems to edge the Hella out in regards to light output just a bit.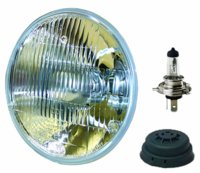 Hella 7" Vision Plus H4 Headlights
Often times referred to as "Hella E-code headlights". A close second to the Cibie, these 7" halogen headlight upgrades are a solid choice for improved light output over stock.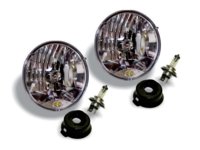 KC HiLiTES 7" H4 Headlights
I can't comment on these personally, but the people who are running them really seam to like them, so I'd put them right up there with the Cibie and Hella H4 lights.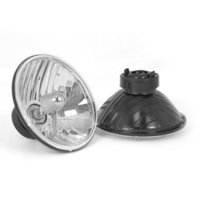 Rugged Ridge 7" Crystal H2 Headlights
The whole 'crystal' look is just that, a look. To some people it looks really good, to others it doesn't. However, this is another viable option for a halogen headlight upgrade.
Hybrid Setups
If you can't afford a true LED headlight, your next best option (which at this point is still a step above halogen bulbs) is a Halogen headlight housing (such as the ones mentioned above) with an LED bulb in place of the halogen bulb. Now, let me start by saying there are TONS of LED bulbs out there and 95% of them are complete junk that will not improve your light output, it will worsen it. That being said, there is only ONE combination I suggest for a hybrid setup like this...
H4 LED Bulbs
This combination will give you an awesome H4 headlight housing with what some regard as the best H4 LED headlight bulb out there. Your light output will be drastically improved over stock, and this setup won't break the bank either.
HID Setups
Last but not least, there's HID setups. As far as I know there are no manufactures out there that make a reputable 7" HID headlight for our Wranglers. There are plenty on eBay coming from China, but if you follow any of the discussions over at HIDPlanet.com, you'll know how badly those headlights suck (the same can be said for the majority of Chinese headlights on eBay). That being said, the guys out there who are running proper HID setups have sourced out a typical Halogen housing, cut it open and retrofitted a true HID projector. This is the only correct way to convert your Wrangler to a proper HID setup. If you're looking for more information on this you'll want to visit
The Retrofit Source
as they are hands down the experts among the HID lightning community, and they specialize in HID retrofit projects on every single make and model of vehicle imaginable.
Don't be the clown who installs a set of HID bulbs in a halogen headlight. A halogen headlight was NOT meant for an HID bulb, and the resulting light output will be a complete mess at best. An HID bulb was designed for an HID projector which controls the light output with an extreme focused cutoff beam. Those assholes you see in Honda Civics with the extremely bright, annoying headlights? Well, those idiots installed HID bulbs in a halogen headlight hosing, in turn scattering their headlight output all over the place to blind oncoming drivers and effectively do no good at all towards properly lighting up the road.
Also, if you do go the HID route, you ideally want to stay somewhere in the 4300-5500k range for bulbs. Anything above that will start to turn purple (and then yellow), which will drastically reduce your light output.
Remember, purple lights might look cool, but purple isn't white, and therefore won't light up the road well at all.
D.O.T. Approved?
Technically, the D.O.T. (Department of Transportation) doesn't approve anything. If you are a supplier to the automotive industry, you build your parts to be compliant with the specifications that the DOT has come up with for each item that affects safety, etc.
Why am I putting this out there? Simply because many people assume (I myself at one point assumed this as well) that in order for a headlight to be street legal, it needs to have "D.O.T. Approved" stamped on it. This is not true, and as stated earlier, the D.O.T. doesn't actually approve anything, it's simply a set of specifications. Don't be fooled into thinking that just because a headlight has a D.O.T. stamp on it, that it's going to be any better than one that doesn't have it.
Conclusion
In conclusion I encourage you to do your research first. There are plenty of options to upgrade your stock headlights whether you're on a tight budget, or have no budget at all. The bottom line is that when it comes to safety items (headlights being one of them), you shouldn't take shortcuts.
There will always be the HID vs. LED headlights debate. I can tell you personally—as someone who has had both setups—a true LED headlight (i.e. Truck-Lites) very closely rivals the a proper HID setup. There's no doubt that a properly retrofitted HID projector and a nice set of HID bulbs is indeed brighter than it's LED counterpart in most cases. However, I can tell you that it's not that much brighter, and the light output isn't enough to justify the extra costs and labor involved in retrofitting a true HID projector.
So, unless you have a lot of time to tinker and simply want a project, I suggest foregoing the HID retrofit and instead opting for LEDs. I've been running Truck-Lite LED headlamps for years now, and the light output truly is phenomenal.
If you have any input in regards to this thread (or additions), please send me a private message and let me know, I'm always happy to help or modify this thread to accommodate other options that I may have left out.