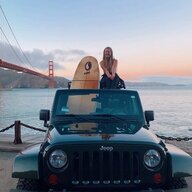 Joined

Jan 28, 2021
Messages

1
Location
2010 Jeep Wrangler Sahara, $19,700, ~60,000 miles, 3.8L V-6 cyl, 4WD
Hi,
This will be my first time purchasing a Jeep, and I'm wondering if this used car seems like a safe/reliable purchase?
https://www.century-cars.com/used/Jeep/2010-Jeep-Wrangler-eee1f4300a0e0a173379ae54a6ee90f2.htm
It has low mileage and is in extremely good condition externally, but I have had it inspected by a mechanic who found a few potential internal issues. I'm wondering if these things are common with Jeeps, how problematic they will be in the future (even after being fixed), and if they make the car unsafe/unreliable in general:
https://documentcloud.adobe.com/lin...:scds:US:78ddef8a-6614-4c63-aed5-78f47e4800d4
Items on the report circled as potential issues:
- "steering: outer/left/right/idler/center link"
- "suspension: ball joint, upper/lower/left/right"
- "differential: dirty"
Here is the CarFax history report:
https://www.carfax.com/VehicleHistory/p/Report.cfx?partner=dlr_3&vin=1j4aa5d18al125419
Thank you in advance for any input!! I'm super excited to purchase a Jeep and this seems like a great option based on my research, but I don't want to miss any red flags since I'm not as knowledgeable about these cars.
Last edited: