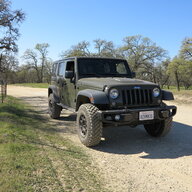 JK Enthusiast
Supporting Member
Joined

Jan 30, 2021
Messages

164
Location
Better make peace with the idea of EVs. They are coming whether you like it or not. California will be 100% EV by 2035, but more significant, so will the Entire European Union.

That being said, I'm unsure where you are hearing that they have poor Off-road performance, if anything the instant torque and low center of gravity make them ideal.

Any Electric off-roader is first gen tech, second gen EV. The first Wrangler in the 80s was 8th gen Jeep.
I'll be in my 80s by then, so I might not be driving much. I know California has the goal, silly as it is.