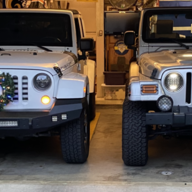 Joined

Mar 28, 2022
Messages

517
Location
AITAH here?
I already know that I'm losing this battle, but I want to get feedback from others to ease my mind.
Our '15 JKU has a factory hard top (now w/ a roof rack) and a Sunrider in place of the Freedom Panels.

Wife wants me to take the top off so that she and 3 friends can drive to the beach w/ bicycles today.
Mind you, we live 15 minutes from the beach. FIFTEEN MINUTES!

They'll probably only ride bikes at the beach for an hour before one of them cries foul and needs to give up!

It's gonna take me 45 minutes and a decent amount of effort to remove the sunrider and rear top.
Not to mention that the top MUST go back on TODAY because we have no place else to put it.
Another 45 minutes to put it back on, all so that they can ride without a top for a total of about 30 minutes, ON A CLOUDY DAY!

So, AITAH here for rejecting the idea?