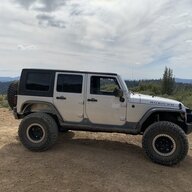 Joined

Jun 22, 2021
Messages

88
Location
Just got done with one awesome trail, the Dusy.
We had planned for 5 days on trail but actually completed it in 4 (3 wheeling days).
Thursday we ran from Courtright Reservoir to Thompson Lake. I will say Thompson hill lived up to the hype. All three rigs made it up with good spotting and one quick winch on the TJ.
Friday we packed up and ran to Erishim Lake. Torturous section of trail. Not too difficult but you never really get a chance to get above 2mph. Constant rocks and tree dodging.
Saturday we spent all day at Ershim Lake, did some fishing. Brother caught a couple Trout, big enough for some fish tacos. Delicious!
Sunday packed up again and ran to Mallard lake. We had planned to stay here another night but we arrived to Mallard within 2hrs and it was not worth unpacking and camping again for such a short run on Monday. So we ate lunch and pushed through to the end at Kaiser Pass.
White Bark are on the last day did test the 4dr JKs. Especially the armor. Lots of tight switchbacks and immovable boulders.
Recommendations.
Stop often. We put a lure in just about every lake along the way just for a break and to enjoy it.
Take your time. Good spotting and line selection will always outperform people that pin-it-to-win-it. And cause a significantly less amount of undue stress on your rig.
Gas. the two JKs did not need the extra gas but the TJ did. Good thing we had it.
Tighten up. Go through every bolt prior to the run. I ended up with a loose lower control arm. By the time I caught it the frame hole had wallowed out.
Would I do it again? Absolutely!
I'll link videos when I get the GoPro footage together.