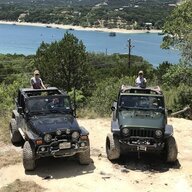 JK Enthusiast
Supporting Member
Joined

Aug 17, 2020
Messages

115
Location
Have a 2008 JK 2 Door. I replaced the battery a month ago, and went back out and dead.

Anyone have a good process to figure out what is drawing and draining the battery overnight? I had the Jscan OBD on there, and took it off. Anyone have any pointers to possible draws?

It has some extra light bars, and a winch and an amp. All came with the Jeep, so I don't have much history/knowledge on them.

I'm not sure where or what to connect that would tell me if there is a draw going on?