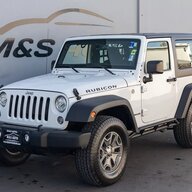 New Member
Supporting Member
Joined

Aug 1, 2023
Messages

16
Location
Tried searching the forum. Maybe didn't use the correct terms. I just bought a 2017 Rubicon 2 door. The test drive felt a little wobbly, but drivable. I thought it might be a jeep thing. I remember the same issue driving one off road in the 80's. Driving home to the S.F. Bay Area from Sacramento was the scariest drive of my life. The play in the steering caused almost every steering input to result in an opposite input needed. Several times it was like I was fishtailing down the interstate. I thought I was going to end up rolling it right there on the interstate. Every time I was heading towards a pothole (CA has lots of them despite the high taxes), I dared not try to steer away for fear of starting another "fishtailing" episode, hitting the pothole seemed safer. I was thinking the whole 1.5 hour drive that if this is normal, I can't believe this is street legal.
Eventually I drove like they show people driving in movie closeups... just kept moving the wheel side to side lightly. That seemed to help keep me from wandering around. It just seems dangerous to not feel like you can easily maintain the lane. Even on local streets, I don't enjoy driving it.
Sitting in the driveway and turning the wheel back and forth there is about two inches of play back and forth.
Does anyone know what could be the cause and if this is a common thing and easily diagnosed by a mechanic?
This is my number one, first post on this forum. Hoping to learn a lot on what mods I will need that will allow my Jeep to handle most trails (maybe someday the Rubicon) plus be able to drive around town. This is a second vehicle so I won't be commuting in it.
Thank you in advance.