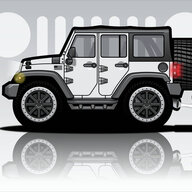 JK Enthusiast
Supporting Member
Joined

Mar 19, 2023
Messages

263
Location
My setup includes an IceCo JP50 fridge with a 100A storage battery, solar hookups and a 110v power converter because I invested in all the stuff while I had a (RIP) camping van. Renogy 200w solar suitcase will fully charge my battery in under 3 hours after two days of camping and fits nicely in the roof basket with the recovery boards. I pre-cool the fridge overnight before putting it in the vehicle and the power draw is minimal to keep it cold.
My immediate future plans include a battery cutoff switch and battery cables to the main vehicle battery from the aux battery for charging and powering on the road. Just need to measure for battery cabling and ends to knock it out. Heavy gauge wire has gotten expen$ive. Wow!
The camping van was set up with a full RV style power system to use campground power too.
Lots of head scratching prior to wiring that up. lol